Publications
Stay up to date with our literature reviews which are curated by experts to feature the most important publications released each month. Explore our publications for access to concise summary slides for your own use.
Single slide summaries of all this month's selected publications.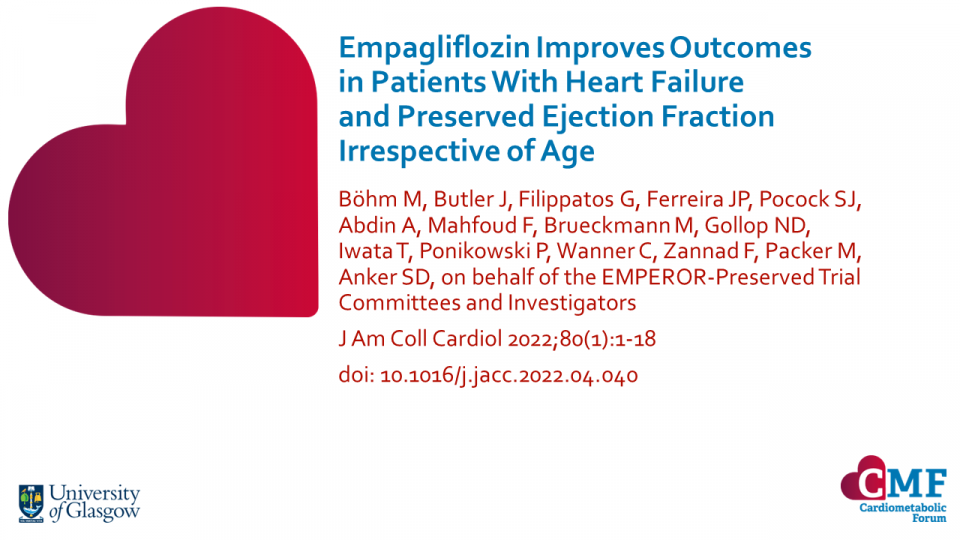 View Slides
J Am Coll Cardiol 2022;80(1):1-18 doi: 10.1016/j.jacc.2022.04.040
Sodium-glucose cotransporter-2 inhibitors (SGLT2i) reduce cardiovascular death and hospitalisation for heart failure (HHF) in patients with HFpEF, and are recommended in recent guidelines for heart failure with reduced ejection fraction (HFrEF), supported by Class IA evidence. Typically, HFpEF patients are older than HFrEF, and have a higher mortality risk associated with older age, while the risk for cardiovascular death is lower than in HFrEF. Until now, the treatment effects and safety of SGLT2i in relation to age have not been studied. This prespecified analysis of the EMPEROR-Preserved trial examined the interplay of age and empagliflozin treatment effects.
For patients on placebo, the incidence of primary outcomes and cardiovascular death increased with age. In contrast, empagliflozin reduced the primary outcome, first HHF, and first and recurrent HHF across all age groups. Empagliflozin also improved health-related quality of life, and attenuated the decline of eGFR without age interaction. Additionally, there were no clinically relevant differences in AEs between empagliflozin and placebo across the age groups, and elderly patients tolerated the treatment well.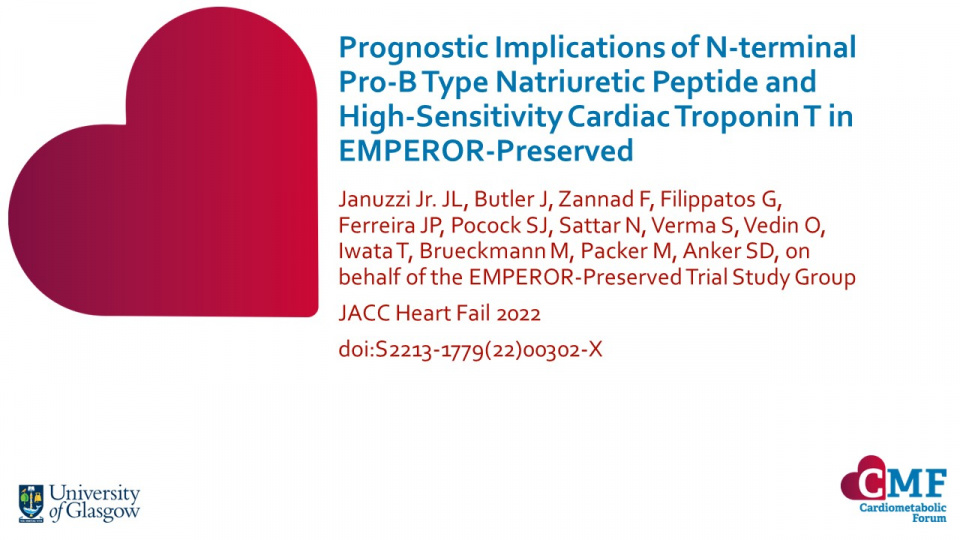 View Slides
JACC Heart Fail 2022 doi:S2213-1779(22)00302-X
This planned analysis from EMPEROR-Preserved provides strong evidence for both N-terminal pro-B type natriuretic peptide (NT-proBNP) and high-sensitivity cardiac troponin T (hs-cTnT) as important disease markers and prognostic indicators in people with heart failure with preserved ejection fraction (HFpEF).
Evaluation and management of individuals with HFpEF can be challenging. NT-proBNP and hs-cTnT are biomarkers with well-established prognostic role across the range of ejection fraction in heart failure. As such, it is possible that patient baseline values could be used to identify those suitable for treatment. However, ambiguity has led to confusion about pharmacologic management, and the role of biomarkers.