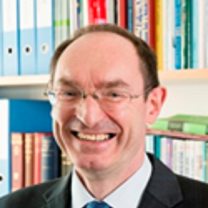 Professor John McMurray
Professor of Cardiology
Institute of Cardiovascular & Medical Sciences, Glasgow, UK
John McMurray is Professor of Medical Cardiology and Deputy Director of the Institute of Cardiovascular and Medical Sciences at the University of Glasgow, UK. He is also an honorary Consultant Cardiologist at the Queen Elizabeth University Hospital, Glasgow. He served as the inaugural Eugene Braunwald Scholar in Cardiovascular Disease at the Brigham and Women's Hospital, Boston, and visiting Professor of Medicine at Harvard University, Boston, in 2010 and 2011. He is an immediate Past-President of the Heart Failure Association of the European Society of Cardiology (ESC).
Professor McMurray graduated from Manchester University with a BSc (Hons) in 1980 and Mb ChB (Hons) in 1983. He is a fellow of multiple organisations including the ESC, the American Heart Association and the American College of Cardiology. He is also a fellow at the medical Royal Colleges in Edinburgh and Glasgow and the Royal Society of Edinburgh and UK Academy of Medical Sciences. He has been a member and chair of many guideline committees, and the lead author of two prominent guidelines on the management of heart failure (The World Health Organisation Guidelines, and First Scottish Intercollegiate Guidelines). He is also a member of the editorial board of the New England Journal of Medicine and sits on the editorial board of several leading cardiovascular journals, including the European Heart Journal (as Associate Editor) and Circulation.
His primary research interests include heart failure, coronary heart disease and atrial fibrillation. He is also interested in the cardiovascular consequences of diabetes and chronic kidney disease, with a specific focus on clinical trials and epidemiology. He is a member of the executive committee or steering committee in many clinical trials on heart failure and other cardiovascular diseases, renal disease, and diabetes. Identified as one of the 400 most influential biomedical researchers in the world, he was jointly awarded the 8th Arrigo Recordati International Prize for Scientific Research (for outstanding contributions in secondary prevention and risk reduction strategies in patients with cardiovascular diseases).